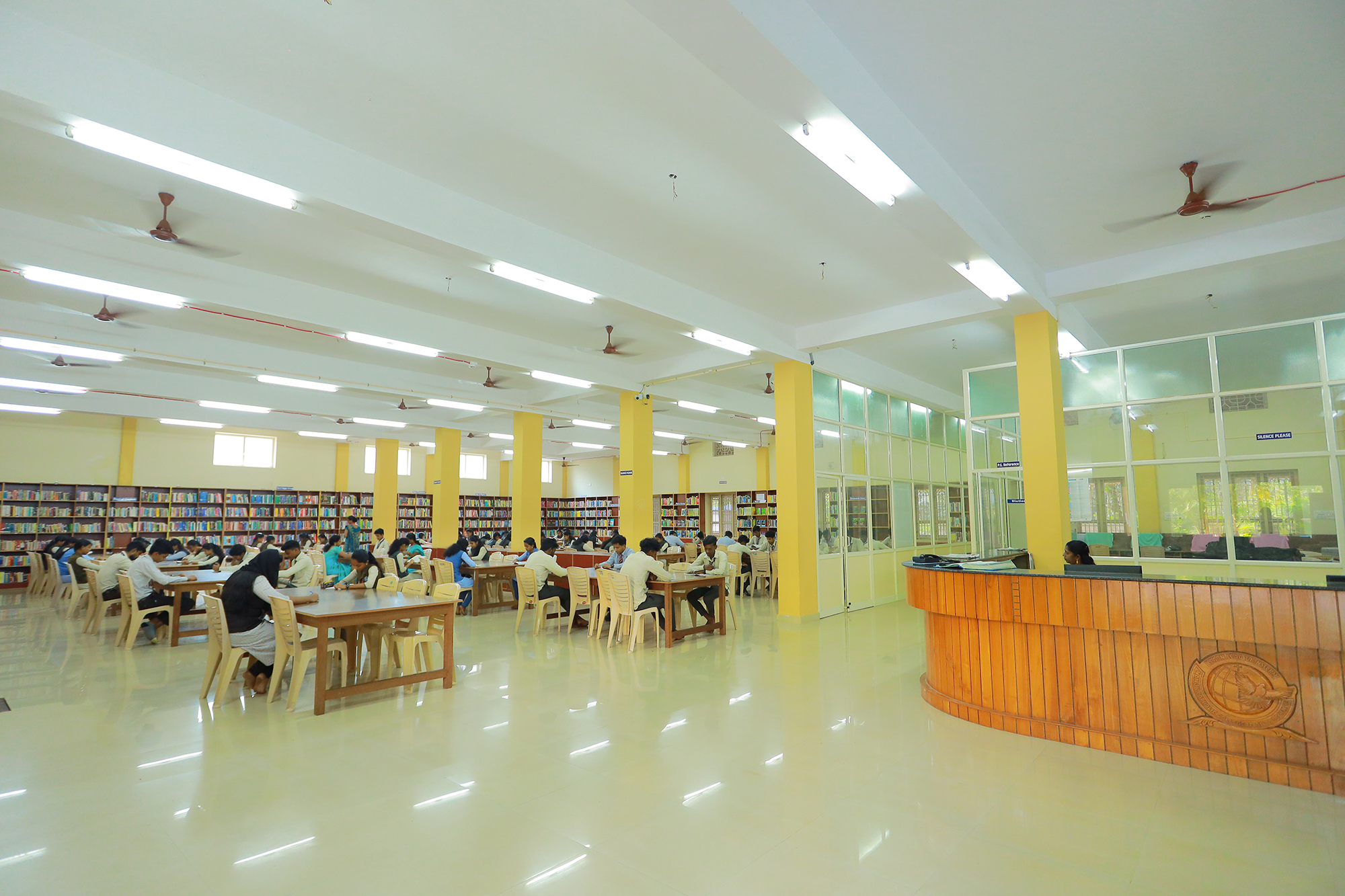 LIBRARY
The College Library was founded in 2012-2013 with 2300 books, The Library, being the heart of the Institution, It supports the Institution in its vision and mission. The library provides an environment for discovery, reflection, and expansion of knowledge. Every year we update the books for all departments especially for new courses.
The Library has a collection of more than 10300 books including reference books. Apart from this holding the Library has holds the rare-book collections. Apart from books, fifty two International & National Journals and Magazines, which are being channelized according to UGC norms and UGC verified publications. Old question papers are provided separately as question bank for the reference of the students and staff.
The reading room is well-equipped to accommodate more than 250 students at once and offers learning conditions. Nine daily newspapers in Tamil, Malayalam, and English are available to students. Separate reference section available in the library with reference books exclusively competitive books including General knowledge books, TNPSC books, NET, SET preparatory books.
The automation software controls the activities of the library, such as cataloging and circulation. Our library is advanced with bar-coding software for the better movement of regular book circulation. Now, it offers an online public access catalog to search the books easily by the Students and staff using computers.
Digital library has been established as E-Library. Fifty two computers with twenty four hours internet facility has been added to set the overall standard of our students. INFLIBNET and National Digital Library (NDL) provides e-resource from primary to higher education. It provides more than 7500+ core and peer-reviewed journals and 10 bibliographic databases from 26 publishers and aggregators in different disciplines.
Gate entry registers are maintained for students and also for staff. Around 250 walk-ins and around 70 students and staff borrow books every day. Best reader award for the students are given every year to the Under Graduates and Post Graduates separately. This award is sponsored by an agreement of 'MoU' with 'Mama Adha', Azhagiyamandapam.