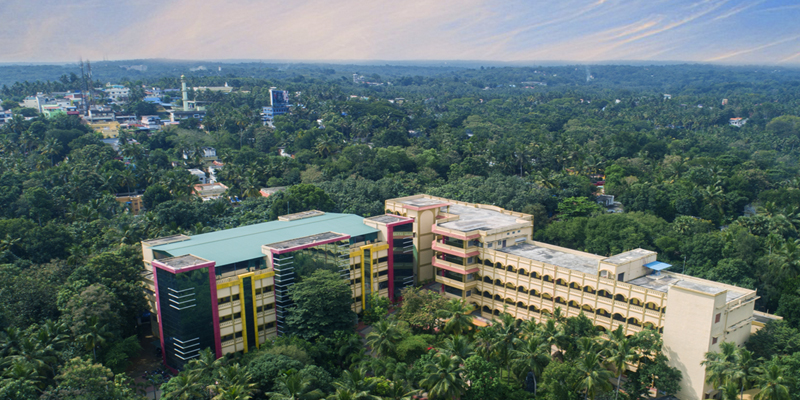 History
Nanjil Catholic College of Arts and Science, Kaliyakkavilai has been established by Nanjil Milk Plant (a unit of the Diocese of Kuzhithurai), Mulagumoodu, Government of Tamilnadu G.O. No. 150 dated 26.07.2012.
The Nanjil Milk Plant Mulagumoodu made the college its dream project. Rev. Fr. S. Maria Rajendran, Former Managing Director of Nanjil Milk Plant mooted the idea of starting a college to cater to the higher educational needs of the people of this region. This idea was accepted and approved without any hesitation by the Most Rev. Dr. Peter Remigius, Bishop of Kottar and the Nanjil Molk board members. Finally, it was resolved to establish a college at Kaliyakkavilai.
St. Joseph's Nanjil Farmers' Association, Nanjil Integrated Dairy Development Programme and Kuzhithurai Integral Development Social Services (KIDSS) involved themselves in this mobile work. Most Rev. Dr. Peter Remigius was the first Patron of the college. The Diocese was bifurcated on 22-12-2014 and after this bifurcation the college came under the jurisdiction of the Kuzhithurai Diocese with the Most Rev. Dr. Jerome Dhas, SDB, Bishop of Kuzhithurai as the Chief Patron Rev. Fr. M. Eckermens Michael is currently the Secretary and Correspondent of the institution. The college is administered by a College Committee, constituted by the Bishop of Kuzhithurai. The Very Rev. Msgr. S. Jesu Rethnam is the Vice-President of the College Committee Rev. Fr. A. Domi Lilil Raja serves as the Bursar. The college is affiliated to Manonmaniam Sundaranar University as per letter No. MSU/CD/Fre. Affl/NCCASc/2012-2013 dated 29.08.2012.
The college functions in spacious and well-ventilated rooms with modern infrastructure facilities. The college is equipped with modern computer labs with latest operating systems and software packages, science laboratories, a commendable library with an enviable collection of books on various fields and a massive auditorium which can accommodate more than 3000 students.
The college has 81 highly qualified and committed teaching staff and 33 non-teaching staff members who work with determined effort to scale new heights in academic and co-curricular activities. The college has a strength of 1285 girls and 621 boys in various departments.