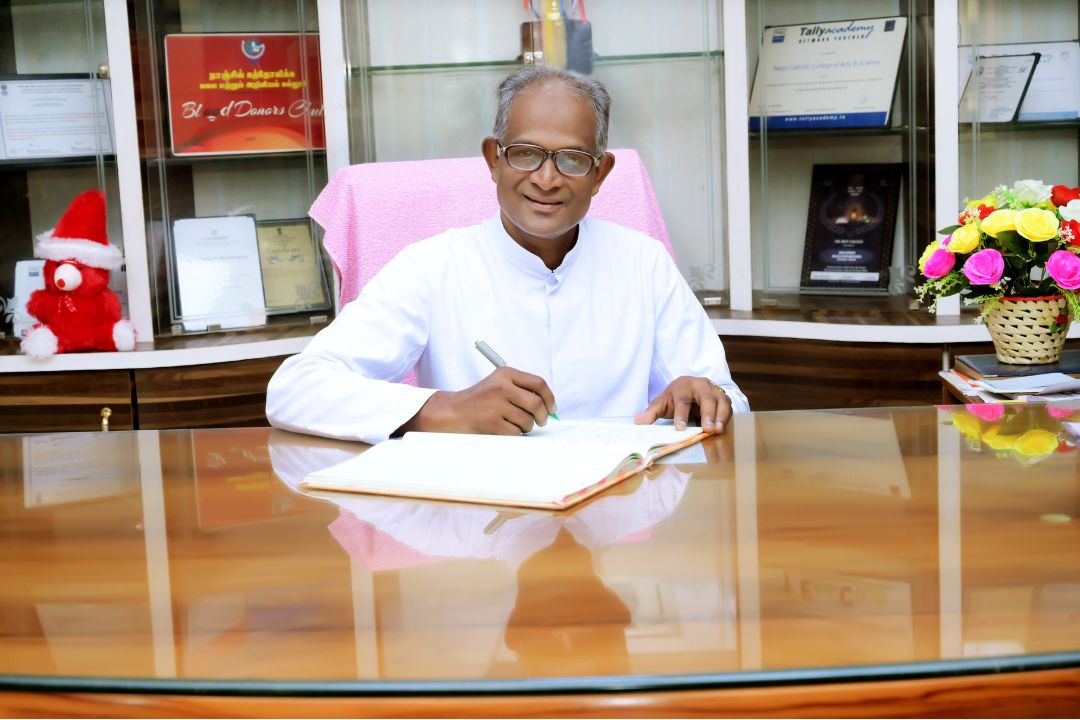 Secretary's Message(Rev.Fr.Dr.M. Eckermens Michael MBA,Ph.D)
"Education, to be complete, must be humane: it includes not only the training of the intellect but also the refinement of the heart and the discipline of the Sprit." – Dr. Radhakrishnan.
Education is not preparation for life; it is life itself. Upon the education of the people, the fate of a nation depends.
Nanjil Catholic College of Arts and Science was started with the noble aim of providing quality education to the poor, the marginalized and the excluded. The College is situated in a lush, greenish ambience, indeed an oasis of peace and tranquility, providing a conductive, collaborative and supportive environment for teaching and learning. It has enviable features such as excellent infrastructure, labs that answer the most modern demands, a library at par with the best and a magnificent exquisite and aesthetically pleasing auditorium. Energized academic and exciting co-curricular activities help student develop a wholesome and integrated personality; inculcate in them the right attitude and a burning desire to excel; cultivate scientific and rational outlook, shunning superstitious belief; develop broadmindedness, inclusiveness, empathy, justice, honesty and creativity and foster personal, social, ethical aesthetic and spiritual values.
Inspiring leadership and richly qualified, caring teachers build productive relationships with students guide and help them nurture their dreams and fulfill them. They are competent in the academic and the people side of teaching, set high standards which are both challenging and attainable and encourage students to develop a sense of responsibility and self-reliance.
To make the faculty successful in playing the diverse roles, many carefully - crafted, positive, motivational and inspirational programmes are regularly arranged by the management. NACCAS, the toddler of a College could go for NAAC accreditation in the shortest period of five years and is accredited with 'A' Grade. It has also the distinction of being shortlisted 4th among the colleges affiliated to Manonmaniam Sundaranar University and a proud place in the NIRF ranking between 101 and 150 at the all India Level. The University Grants Commission has also included NACCAS under 2 (f) of the UGC Act, 1956.
NACCAS aims at imparting Total Quality Education. Those who enter its hallowed portals and spend a few years, earn a lifetime of success. It is NACCAS that gives the students the best today and gifts them a great, glorious tomorrow.